LEADING SOLUTION FOR SOCIAL COMMERCE
INCREASE REVENUE, OPTIMIZE AD COST & OPERATION COST
Generate 2x leads
Auto response 24/7 your customer inbox and comment with Chatbot, never lost any potential
Reduce return, more profit
Choose right shipping couriers, never confirm wrong CoD amount, check customer history
Improve productivity
Chatbot qualified lead first. Your staffs focus on qualified leads and create order & shipment
Don't spend more, optimize first
Don't miss your opportunities

Never miss out on any comments/messages or customers with an engagement management system right on the Fanpage.

You can auto hide comment with phone number to protect buyer and prevents competitors steal your orders or negative comments.

Never lost your potential customers again

You can easy to setup automation flows to collect demand of new customers, qualify them.

Reduce abandoned

You can auto sent coupon/offer to potential customers who are consideration totally free via Facebook messenger (on first 24h)
Enhance your staff's sales productivity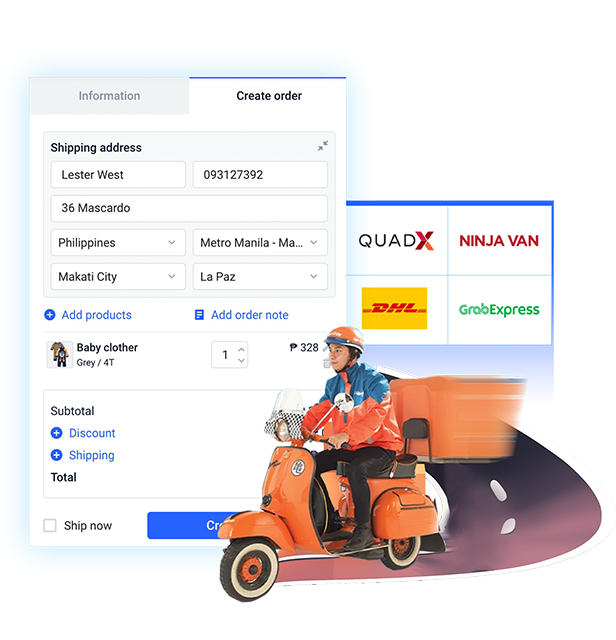 Integrated with shipping couriers

Save up to 70% of order processing time and 30% of logistics costs while maximize your customers' shopping convenience.

Employee performance managing

Always control your transparent sales operations, save time and optimize business performance.

Reducing cancellations

No more out of stock orders with our real-time inventory system. No more mistakes such as wrong CoD Amount, shipping courier, address...
Cut off advertising costs by targeting the right potential customers
Boost up your sales automatically

Automatically sending messages and replying to hundreds of comments in seconds with chatbot.

Free remarking to right customers

You can auto sent facebook message to who interested in a certain product with our boardcast feature.

Remarking your customers

You can classify customers into groups of bought, loyal, VIP, etc. for cross-selling and up-selling with our sponsor message feature.
The scalable e-Commerce platform
We have right solution for stages of your business
Easy to sell & manage your sale channels
Start
Starting an online business.
Easily sell on Facebook, Lazada, Tiki and Shopee.
Pro
Easy to setup e-Commerce website, management multi-channels, realtime inventory.
Increase revenue, purchase frequency
Grow
Increase revenue with best practice campaign, centralize customer data.
Scale
Easy to setup loyalty program
Optimize operation, cost & employee performance
+90.000 CUSTOMERS SUCCESS WITH OUR SOLUTIONS
Get 3 free months of HaraFunnel Pro
For a limited time only